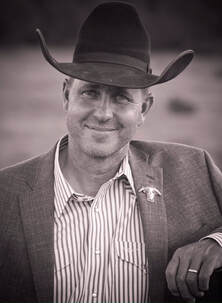 November 2023
"The Tragedy of the Commons"...
Aristotle eluded to the term in his writings and it is often used against ranchers who graze public lands.  If you are unfamiliar with the concept, it means that if a resource is communally owned, human nature will dictate that 'greed" will cause individuals to over utilize the resource to inevitable exhaustion.  When I hear this concept used against agriculture, I get very infuriated.  The development of the original federal grazing system knew that, although the marginal lands were not capable of supporting homesteads, agriculture systems could utilize the land for grazing if there was ample base livestock water developed.  The system understood that permanent resource management had to have a level of private ownership and management which would keep "tramp herds" from moving in and devouring resources before moving on.  (This is where I harp on everyone to make sure they have their domestic and livestock water rights titled in their name with the State Engineers Office.)  With ownership of water on these marginal lands and development of permanent agriculture systems, communities sprang up and the tax base was established.  Grazing Fees were never intended to be considered a lease but an administrative fee to track ownership of the possessory rights.  We now have another dark cloud on the horizon which will upset our rights to the core.
October 4, 2023, the Securities Exchange Commission (SEC) issued a proposed rule to approve the creation of a new investment vehicle, the "Natural Asset Company (NAC)." This new vehicle was created by the Intrinsic Exchange Group (IEG) in partnership with the New York Stock Exchange (NYSE). The IEG was founded by the Rockefeller Foundation with supporting partners including international environmental organizations such as the World Wildlife Fund.
The purpose for this new investment product is to provide a vehicle for elite investors and governments to profit from the protection of natural resources created by climate crisis policies. It is why these same proponents have been calling for the permanent protection of at least 30 percent of the world's land and oceans by 2023 - the 30x30 agenda. These same actors are also pushing the net zero and decarbonization policies.
These Natural Asset Companies (NAC's) will have full management control of enrolled lands, including public and private lands with conservation easements.  NAC's will be publicly traded entities, meaning that they can and will have foreign ownership.  Is the importance of the proposed BLM Conservation Rule becoming perfectly clear?  Another accompanying rule that is buried in the Federal Register is 36 CFR 261, Expanding and Streamline Enforcement Capabilities of USFS Law Enforcement.  No longer would USFS need the approval of the local Sherriff to enforce specific statutes.  If the Sherriff can't protect the local citizens from USFS, who can?
If you are considering not voting, reread this letter and please reconsider!
Pray your neighbor gets rain!​Loren N. Patterson
---
Executive Committee:
Loren Patterson,
Corona – President
​Bronson Corn,
Roswell - President-Elect
Joe Culbertson,
Amistad - Vice President at Large
Cliff Copeland,
Nara Vista - NE Vice President
Jeff Decker,
Lovington - SE Vice President
Roy Farr,
Datil - Vice President at Large
Dave Kenneke
, Cimmaron – NW Vice President
Shacey Sullivan
, Bosque Farms – Secretary/Treasurer
​Randell Major,
Magdalena - Immediate Past President
Tom Sidwell,
Quay – Past President ​
---
Board of Directors:
Loren Patterson

, Corona 

Bronson Corn, Roswell Joe Culbertson, Jr. Amistad Shacey Sullivan, Albuquerque Cliff Copeland, Nara Visa Jeff Decker, Lovington Dave Kenneke, Cimarron Roy Farr, Datil Randell Major, Magdalena Thomas Sidwell, Tucumcari Jeff Bilberry, Roswell Trent Bilberry, RoswellLinn Blancett, Aztec Irvin Boyd, Eunice Jim Bob Burnett, Lake Arthur Ron Burnett, Datil Michael Carrica, Rio Rancho Mike Casabonne, Hope Jim Ross Caviness, Maljamar Jack Chatfield, Mosquero Kim Chesser, Roswell Blair Clavel, Roy Mike Corn, Roswell Caren Cowan, Albuquerque Amanda Culbertson, Amistad Bruce Davis, Springer Linda Davis, Cimarron Matthew Denetclaw, San Juan Crystal Runyan Diamond, Elephant Butte Joe Delk, Las CrucesCharles Rogers, 

Clovis 

Denton Dowell

, Clovis 

Tracy Drummond, Reserve Wesley Eaton, Vado Alden Elkins, Pinon Dan Estrada, Trementina Kevin Floyd, Roswell Wayne Franklin, Yahtahey Sid Gordon, High Rolls Colten Grau, Grady Jim Grider, Carrizozo Anita Hand, Datil Nolberto Hernandez, Rio Rancho Jim Jackson, Salmon, ID Stan Jones, Broadview Curtis Kelling, Cuervo Justin Knight, Tucumcari Majorie Lantana, Crownpoint Colton Lee, Alamogordo Boe Charles, Springer Kenneth McKenzie, Encino Sarah McKenzie, Fort Davis Jeff Menges, Safford Louis Montoya, La Plata Joe Bill Nunn, Deming Justin Nunn, Deming Tom Paterson, Houston Kyle Perez, Nara Visa Nancy Phelps, Winston Tate Pruitt, Capitan Bob Ricklefs, Ute Park Megan Richardson, Monticello   
Becky King Spindle

, Moriarty 

Casey Spradley, Cuba Gary Stone, Weed Kimberly Stone, CapitanJim Thorpe, Newkirk Bernarr Treat, Roswell Lance Vicente, Vaughan Judy Wallin, TorC Dee Wear, Hillsboro Kendal Wilson, Carrizozo Marshal Wilson, Mesilla Park Pat Woods, Broadview Pat Boone, Elida Jose Varela Lopez, Santa Fe Rex Wilson, Ancho Bert Ancell, Tucumcari Alisa Ogden, Loving William Sauble, Maxwell Don (Bebo) Lee, Alamogordo Phil Bidegain, Tucumcari Bob Frost, San Jon William Humphries, Tucumcari Wesley Grau, Grady Bill King, Moriarity Ryan Perry, Roswell Susan Navarro Cordova, Los Lunas Bob Homer, Albuquerque Jim Lyssy, Fort Sumner Dr. Rolando Flores, Las Cruces Jacinda Price, Santa Fe, John Romero, Casa Blanca Carlos Salazar, MedanalesTroy Sauble, Maxwell 

 
---
Past Presidents:
T.E. Mitchell, Albert *1921-1923




Hugh L. Hodge, Silver City *1923-1925




C.M. McDonel, Bell Ranch *1925-1927




Tom P. Tallé, Las Vegas *1927-1929




T.A. Spencer, Carrizozo *1929-1931




Robert H. Royall, Tyrone *1931-1933




Albert K. Mitchell, Albert *1933-1935




Lee S. Evans, Marquez *1935-1937




A.D. Brownfield, Deming *1937-1939




Oliver M. Lee, Alamogordo *1939-1941




Con W. Jackson, Las Vegas *1941-1943




Tom Clayton, Spear *1943-1945




E.G. Hayward, Cimarron *1945-1947




George A. Godfrey, Animas *1947-1949




G.W. Evans, Magdalena *1949-1951




Roy Forehand, Carlsbad *1951-1953




Ed Heringa, Clayton *1953-1955

S. Culberson, Lordsburg *1955-1957




Dick Snyder, Clayton *1957-1959




W.I. Driggers, Santa Rosa *1959-1961




John Stark, Deming *1961-1963




Will Orndorff, Roswell *1963-1965




J.L. (Les) Davis, Cimarron *1965-1967




Noel Rankin, Silver City *1967-1969




W.O. Culbertson, Jr., Las Vegas *1969-1971




Reuben E. Pankey, Santa Fe *1971-1973




Charlie T. Lee, Alamogordo *1973-1975




Albert J. Mitchell, Albert *1975-1977




Phil Harvey, Sr., Cave Creek, AZ *1977-1979




Phillip Bidegain, Tucumcari *1979-1981




Bob Jones, Crow Flat *1981-1983




Don Hofman, Tucumcari *1983-1985




Peter T. Mocho, Belen *1985-1987




W.F. (Dub) Martin, Santa Fe *1987-1989




H.W. (Bud) Eppers, Roswell *1989-1991

Bill King, Stanley 1991-1993
Wesley Grau, Grady 1993-1995
William Humphries, Tucumcari 1995-1997
Bob Frost, San Jon 1997-1999
Jimmy R. Bason, Hillsboro *1999-2001
Phil H. Bidegain, Tucumcari 2001-2003
Don L. Bebo Lee, Alamogordo 2003-2005
Bill Sauble, Maxwell 2005-2007
Alisa Ogden, Loving 2007-2009
Bert Ancell, Wagon Mound 2009-2011
Rex Wilson, Carrizozo 2011-2013
​Jose Varela Lopez, La Cienguilla 2013-2015
​Pat Boone, Elida 2015-2017
Tom Sidwell, Tucumcari 2017-2019
Randell Major, Magdalena 2019-2021
---
Past Award Winners:
Cattleman of the Year:
Darrell Brown, Weed 2022
Tom Sidwell, Tucumcari 2021
Caren Cowan, Albuquerque 2020
Ayudando Siempre Alli:
Jess Carey, Reserve 2022
Tom Paterson; Houston, TX 2021
Joe Culbertson, Amistad 2020
Green from Ground Up:
Kendal & Chelsea Wilson; Carrizozo 2022
Ron Burnett, Datil 2021
Linda Davis, Cimarron 2020
King Service Award:
Patty Waid; Albuquerque 2022
Dr. John Wenzel, Las Cruces 2021
Dina Chacon-Reitzel, Albuquerque 2020
Livestock Inspector of the Year:
David Trujillio; T or C 2022
Cathy Truby, Farmington 2021
Justin Gray, Roswell 2020