---
Perez Family Receives Ranch Family of the Year Award
Perez Family Receives Ranch Family of the Year Award
By: Abby Spindle, NMCGA
Join us in congratulating the 2023 Ranch Family of the Year. The Perez family was honored at the 2023 New Mexico State Fair during the Thursday night rodeo among other agriculture awards presented that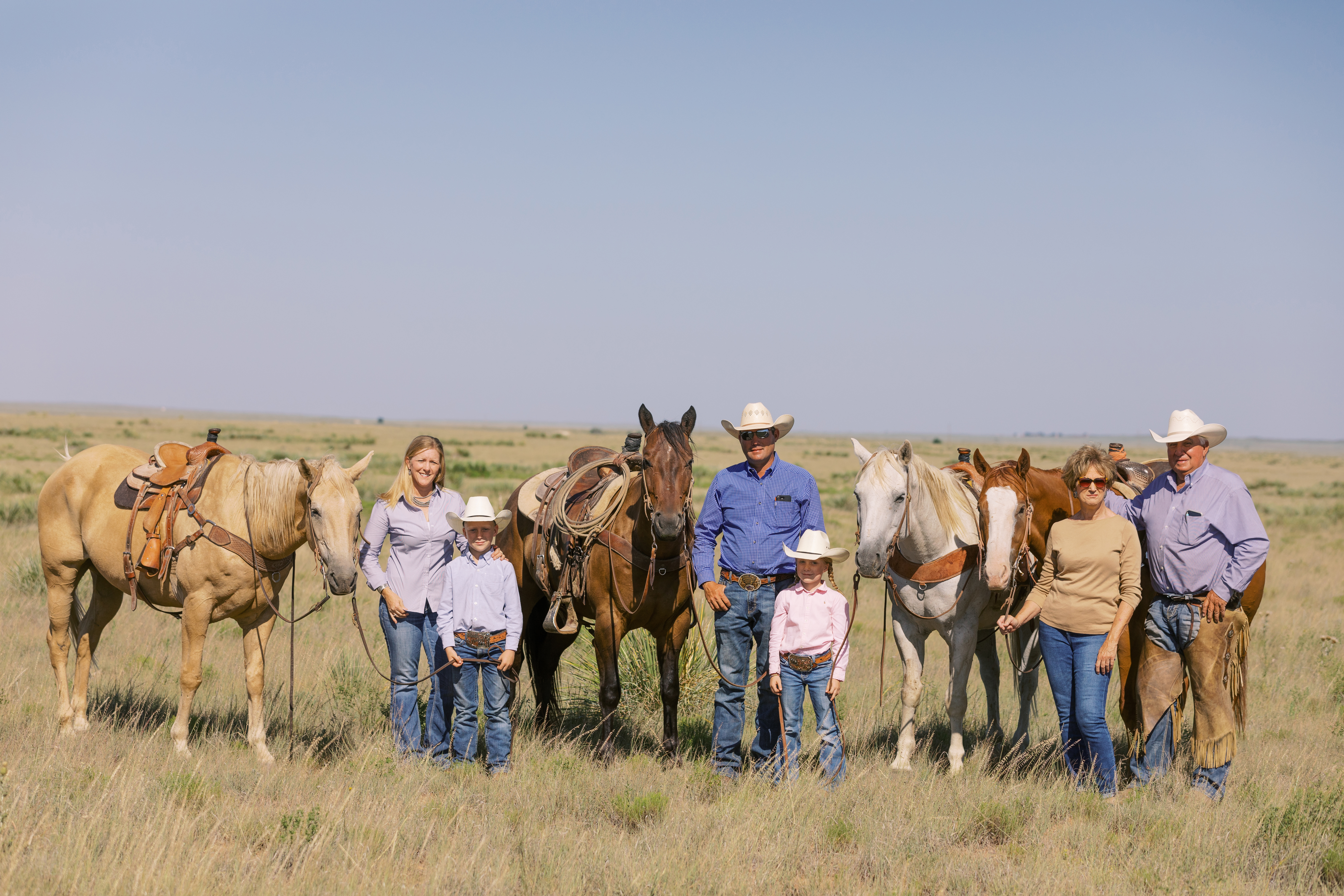 night.
Pérez Cattle Company of Nara Visa, NM and Encino, NM is owned and operated by Michael & Connie Pérez and their son and daughter-in-law Kyle and Tonya Pérez and their twins Peyton and Libby.
The Pérez name has deep roots in New Mexico Agriculture with Michael's grandfather homesteading the ranch at Encino.  His late father and mother Ernest & Jewel Pérez grew up on that ranch and they came to be world-class sheepman winning the title of Fleece of the world not once, but twice. The Encino ranch is currently the commercial cow/calf division of Pérez Cattle Company and managed by Michael's brother and sister-in-law Chris and Leslie Pérez.
In the early 1950's Connie's parents, Don and Mary Helen Kuper, sold the farm in Dalhart, TX and purchased a ranch right over the state line in Nara Visa, where they managed a progressive commercial Hereford cow/calf operation. Today, Nara Visa is home to Pérez Cattle Companies' Registered Hereford and Angus division.
The Pérez family has been working diligently on breeding functional registered seedstock for over 45 years. Over the years their philosophy has never changed; line up as many good cows as you can in one pedigree.
​
"NMCGA is proud to award the well deserving Perez family as Ranch Family of the Year. Their steadfast commitment to New Mexico agriculture and raising cattle is second to none," says NMCGA President, Loren Patterson. 
---
April 13, 2023 - 30x30 Land Grab, Government and Food
CLICK HERE TO VIEW
Producers, neighbors, county managers and many others from Eddy, Lincoln, Otero, and Chaves met together April 10th with U.S. Forest Service officials with the Lincoln National Forest to discuss the proposed Lincoln Forest Management Plan.
​
Thanks to Margaret Byfield, Vickie Marquardt, Jeff Bilberry, Bronson Corn and Will Cavin for sitting down with 
Spoken Words in New Mexico
 to discuss land, government and food!
April 3, 2023 - Trujillo named 2022 Livestock Inspector of the Year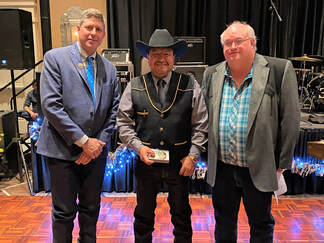 The 2022 Livestock Inspector of the year is David Trujillo. Born and raised in Garfield, David graduated from Hatch High School in 1982. Prior to his position as District 21 Livestock Inspector with the New Mexico Livestock Board, he worked as a meat processor and manager in Hatch. The NMLB brought David on in 2001 as a Meat Inspector for the Meat Inspection Division, and after 6 years in that position was then transferred to the T or C area as a Livestock Inspector.

David is recognized for his instrumental role in livestock evacuation and placement during the Black Fire, named New Mexico's second largest wildfire burning over 300,000 acres. New Mexico Cattle Growers' Association looked to David as the lead boots on the ground when coordinating donations of feed to the burn scarred area.

"David is always willing to help out in other districts that are short staffed, and has filled in for Districts 14, 22, 10 and 7," said Shawn Davis, Deputy Director, NMLB. "He has worked with us for 21 years and has done so without complaint and with an attitude of service and dedication."

This award is sponsored annually by Sauble Ranch Company in coordination with New Mexico Cattle Growers' Association.

Photo (L-R): Loren Patterson, NMCGA President; David Trujillo; Troy Sauble, Sauble Ranch.
---
March 29, 2023 - Torrance County Proclamation Celebrates Heritage Contest winner Macklee Cain
Thank
 you Torrance County Board of County Commissioners for honoring Macklee Cain NMCGA
 2022 Heritage Contest winner and celebrating the value agriculture brings to New Mexico. 
​
March 28, 2023 - Regional Meeting Announcement
Northeast Regional Meeting to be held at Philmont Scout Ranch, Cimarron.
April 20, 2023 | 10:00am - 4:00pm | Free event, must RSVP for lunch!
CLICK HERE
 to learn more
March 13, 2023 - Young Cattlemen's Graduate Scholarship
Applications must be received in the NMCGA office by May 5, 2023.

New Mexico Cattle Growers' Association
Attention: Graduate Scholarship Committee
P.O. Box 850
Moriarty, NM 87035

The scholarship will be awarded June 5, 2023 during the NMCGA Mid -Year meeting in Ruidoso, NM. Winner is encouraged to attend to receive their scholarship in person.
March 8, 2023 - Cain receives Cattle Growers' honor, Annual Heritage showcase is back
New Mexico Cattle Growers' Association (NMCGA) announced Macklee Cain of Mountainair as the 2022 recipient of NMCGA Statewide Heritage Contest during the Joint Stockmen's Convention held December 2022. Honored for her reflection and commitment to her roots in New Mexico's ranching industry, Macklee received a commemorative Torrance County Heritage belt buckle, a one year junior membership to NMCGA and a $1,000 scholarship funded by the NMCGA Promotions and Marketing Committee.
Macklee is a fifth grade Mountainair Mustang who is active in 4-H and loves everything about ranching, except building fence. A portion of her winning essay reads, "As a fifth generation rancher, I plan to build on the legacy of agriculture in New Mexico by becoming an Ambassador for the ranching industry. Only 2% of the U.S. population are involved in agriculture. There are many people who do not understand how difficult feeding America is. It is my goal to educate those who are not directly involved in agriculture and show them how passionate agriculturalists are about taking care of animals and the land. I will continue to build the industry by making sure everybody knows where their meat comes from. I will show them that eating beef can be both nutritious and delicious. I will do all I can to make sure my passion for New Mexico agriculture is contagious."
​Enter the 2023 Heritage Buckle Contest, 
entries due May 12, 2023.
 Form and guidelines below:
---
January 24, 2023 - Boots in the Roundhouse
HB 45 – Natural Heritage Conservation Act Amendments
Sponsored by, Representative Matthew McQueen
House Bill 45 amends the Natural Heritage Conservation Act to authorize the acquisition of land and other interests in land for conservation purposes and makes conforming changes. Specific amendments to sections of the Natural Heritage Conservation Act include (Sections 75-10-2 through 75-10-4 and 75-10-7 NMSA 1978). Currently the Natural Heritage Conservation Act allows acquisition of conservation and agricultural easements and funding of certain land restoration projects.
In person,
 Thursday, January 26, 2023 – 9:00AM – Room 309
Zoom, 
https://us02web.zoom.us/j/89292510566
 or one tap mobile: US: +16699009128,,89292510566# or +17193594580,,89292510566#
​
Contact Today! Find members of House Rural Development, Land Grants and Cultural Affairs Committee here https://bit.ly/3XAwAdt
---
January 12, 2023 - Stakeholder Educational Seminar
UPDATE: January 23, 2023 - The U.S. Fish and Wildlife Service is delaying the effective date of the final rule to list two Distinct Population Segments (DPS) of the lesser prairie-chicken under the Endangered Species Act (ESA). The Service is extending the effective date by 60 days, from Jan. 24, 2023, to March 27, 2023.
-----
Hosted by NMCGA to discuss Lesser Prairie Chicken, Dunes Sagebrush Lizard, Candidate Conservation Agreements with Assurances (CCAA) and Certificate of Participation (CI) with the NM State Land Office and Center of Excellence CEHMM.
---
January 6, 2023 - FWS Collared Mexican Wolf Public Location Map
NOTICE - Collared wolves located North of Interstate 40 near Clines Corners


​
Click to view collared wolf map- 
https://bit.ly/3IuuVS7
. Please note, this map does not provide real time data. Nor does it show the total number of collared wolves or pack size.
---
January 6, 2023 - Comments Due
Reminder - 
Public comments due 01/09/23 on the topic "Gila National Forest seeks input on lethal removal of estray cattle."
Submit comments via email to 
[email protected]
Brown named 2023 Cattleman of the Year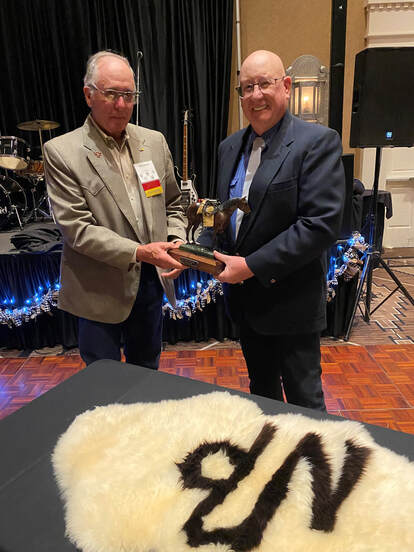 Cattleman of the Year is the most prestigious honor given by New Mexico Cattle Growers' Association and is given to a well-rounded member of the ranching community.

Nominated by their peers, the Cattleman of the Year not only works on the ranch but is also a known advocate for agriculture whether in the form of education, legislative issues or both. A person that is always there to lend a willing hand in any situation, and someone who is present in their communities serving civically, often being noted as prominent members and supporters.

When asked where they are from, the 2023 Cattleman of the Year has often jokingly replied to others, "If you divide the state in quarters, I have lived in all corners of New Mexico."

​Darrell Brown and his family have been involved with NMCGA since his dad served as Executive Secretary of the Association in 1969. Though he never owned a ranch of his own, he worked side by side with his mentor and grandfather on his grandfather's ranch in Durango, Colorado; later taking care of the cattle when they were moved to Mt. Taylor, west of Albuquerque.
Blackburn's named New Mexico Ranch Family of the Year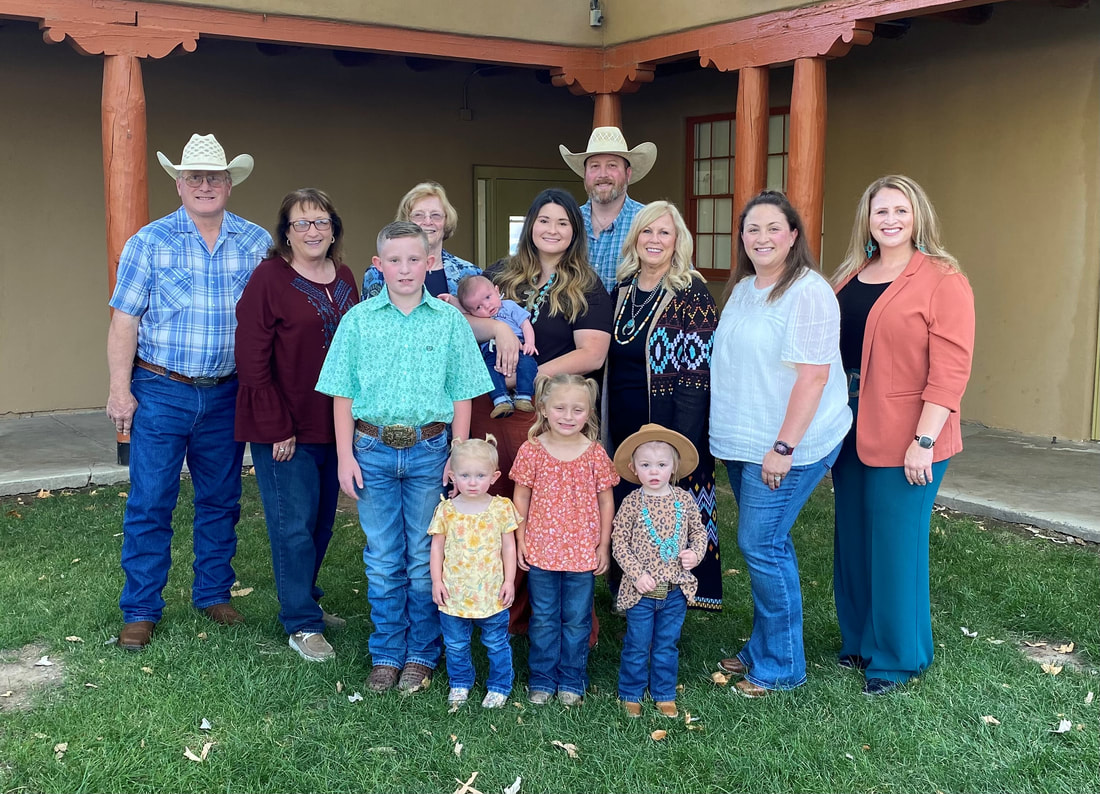 Settled in the northeastern corner of Curry County, Blackburn Farms began in 1913 when the family started raising cattle, wheat, sorghum, cattle feed. CJ Blackburn was the teller of the origin history where his father, grandmother and uncles worked to establish their homestead in Broadview.

As a boy, CJ was very involved in 4-H and FFA, showing sheep at the county and Eastern New Mexico State Fair for several years. It was not until 1958 that he was able to convince his father to let him feed a steer, which began his cattle showing enterprise and the family emphasis on enhanced genetics for future generations.

In June of 1959, CJ married Nancy Cagle of Clovis. As a result of timing nuptials with wheat harvest, a honeymoon was non-existent so taking CJ's steer to the NMSF would have to do.
From Our Members - The Johnson Brothers
William 'Plemon' Johnson and his brother Archie traveled by covered wagon from an area near Fort Worth, Texas to the banks of the Rio Puerco between Cuba and San Ysidro. Looking to start a homestead of their own, they left behind their large and established families and headed West to New Mexico.

The brothers found land that was free if one was willing to put in the work to develop it, settle a home and live on it for a time. Together, Plemon and Archie paid the filing fee, claiming the land known as 'Eagle Mesa'. Plemon then wrote to his 7 sons back in Texas, urging them to bring their families and join them in New Mexico. The family survived the bust of the stock market in 1929 leading to the Great Depression and about a decade of the Dust Bowl. Since their establishment in 1921 the Johnson's have held on to their claim.

Today, Casey Spradley is the 4th generation to call Eagle Mesa home. Her family's legacy on the permit and land has been handed down for just over 100 years. With that kind of history comes a long-memoried passion for the health and wellbeing of the land and the many generations that it provided for. Around to see the implementation of the Taylor Grazing Act, the Johnson's and their descendants learned practical ways to prevent overgrazing and soil deterioration while providing homes to native wildlife and their livestock. Each generation has stewarded the land to leave something for the next.

NMCGA Member Since 1963
---
Young Cattlemen's Spotlight - Matt & Alyssa Copeland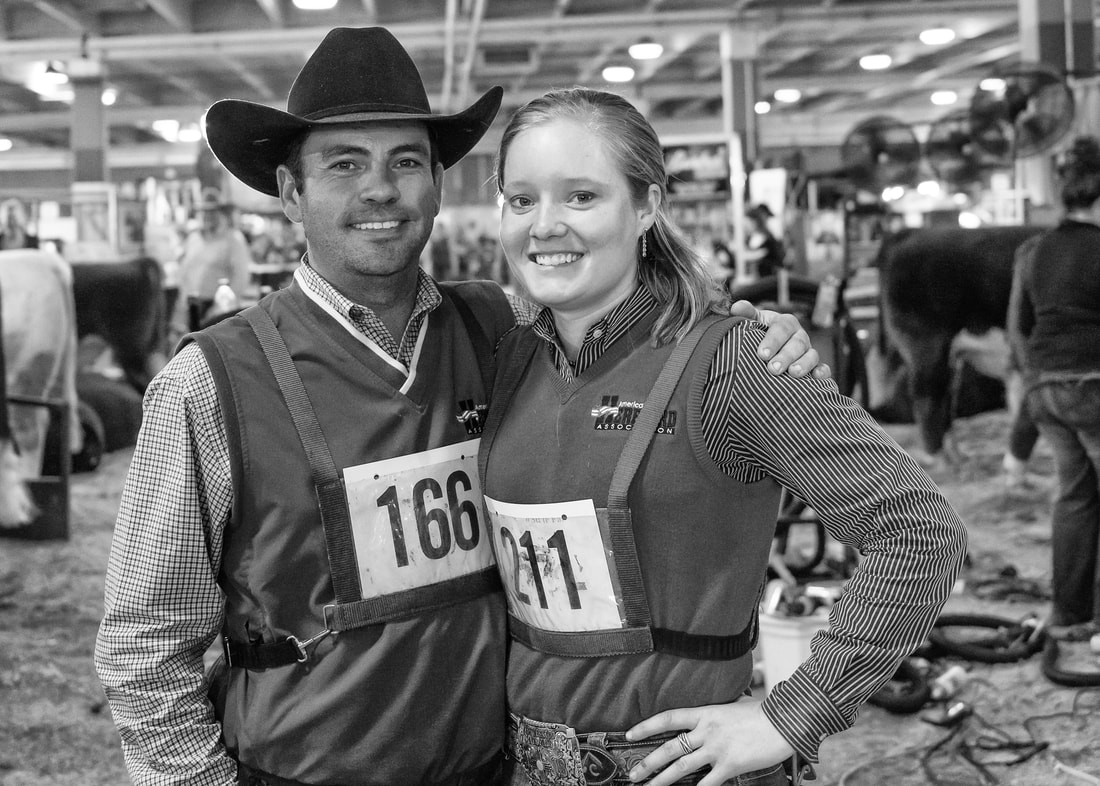 What would bring two people raised in agriculture together, one from New Mexico the other from Tennessee? Involvement in a national association and a common love for cattle. ​

Matt Copeland is the 5th generation to live and work his family's ranch in northeastern New Mexico.

Alyssa (Fee) Copeland has had cattle in her blood since she was 8 years old. The eldest of 4 and a native of Tennessee, she was raised in agriculture but more so in farming than in cattle. ​
From Our Members - Lavender Brangus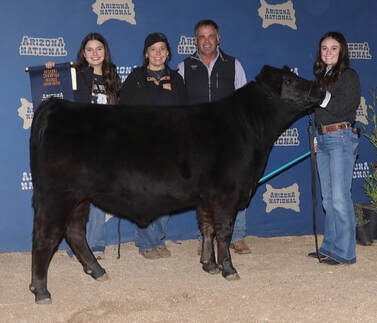 Marty and Belinda Lavender grew up in Melrose, New Mexico both from families who settled in Eastern New Mexico to farm and ranch. For 30 years the couple has operated Lavender Brangus, a registered seed stock producer selling Brangus bulls and females.

Known as a hardy breed able to withstand warm harsh environments Brangus cattle were developed with a clear purpose in mind. Researchers of the breed began crossing Angus and Brahman in the early 1900's, it has since been concluded that a composition of 3/8 Brahman and 5/8 Angus is close to ideal.

The Lavenders see the benefits of Brangus in their operation from maternal instinct to hybrid vigor in calves and tolerance to the arid climate of New Mexico. Marty and Belinda are proud of their herd as they work to meet and exceed the ever improving quality standards of the US beef industry.

With daughters, Baylee and Hannah, the family also exhibits their cattle at regional and national Brangus shows. They enjoy the comradery of those involved in the breed, a community made up of people from all over the world.
​
NMCGA Member Since 2021
---
A Night at the County Fair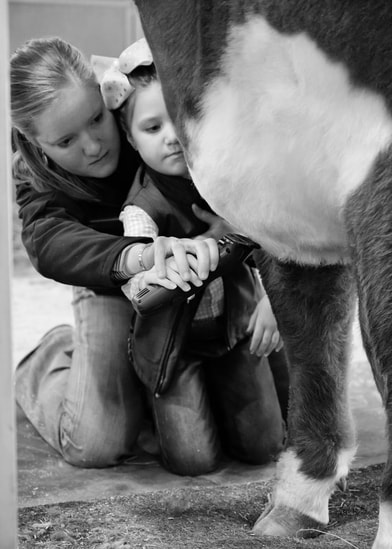 County fair season in communities all across the state began this week. From late July to October people of all ages, backgrounds and interests will come together to showcase talent, enjoy food, and the see a year of hard work come to fruition. This is a great opportunity for the agriculture community to grow, educate and showcase its best!

New Mexico Cooperative Extension Service and youth organizations like 4-H and FFA cultivate opportunities for every member of the family to be involved in the fair. There are several classes to showcase talents as a member of these youth organizations including: animal science, horticulture, engineering science, creative arts, and home economics. For those who are still a kid at heart, the adult open division includes: farm crops, baked and canned goods, clothing, needlework, arts and crafts, and photography.
​
"4-H and Extension touches 650,000 New Mexicans every year! That's one-third of our great state. 4-H is one of many organizations that children and even adults can take part in, one which holds a huge piece of my heart", said Tatum O'Toole, former State 4-H President.
---
From Our Members - Missy Mraz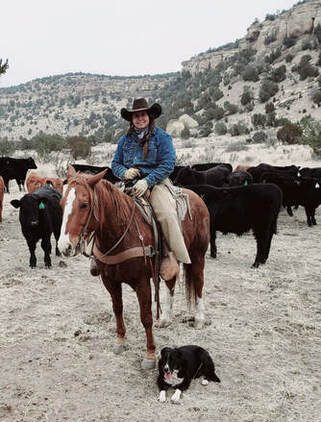 Missy Mraz was born in Gallup, where she was raised a 4th generation cowgirl working on various ranches in the Zuni Mountains and eastern New Mexico.

She grew up horseback tending to cattle, tracking wildlife with her hounds, guiding hunts and fishing with her parents Frank and LaVern and brother Sean.

An avid horsewoman and outdoorsmen, Missy has made her life with a pickup, trailer and a good horse. From riding and breaking colts to tending to sick cattle in college, working as a cowhand on the Singleton Ranches – Bojax Ranch and Lobo Ranch divisions, being contracted to catch maverick cattle in rough terrain, to training hounds and guiding numerous lion, elk, deer and antelope hunts; Missy has been able to share her expertise with many over the years.
She has also been fortunate to foster relationships across multiple states which in turn led to her involvement with organizations that aim to give back through Make a Wish New Mexico and the Wounded Warrior Project. Missy finds it a great pleasure to share her love of the outdoors, ranching and New Mexico with others.
​
NMCGA Member Since 2022
---
Support America, Eat Beef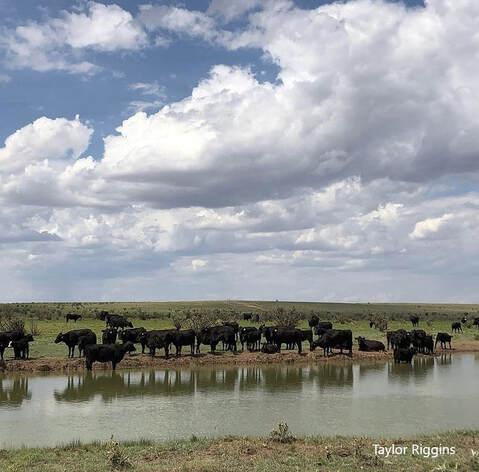 The American Rancher is steadfast in a multitude of conditions. We work to provide the best beef in the world to consumers who demand the highest in quality and readily choose to consume the most nutrient dense of all available proteins. If we look around, our battles are noticeably more than usual unpredictable weather patterns, harvesting plants booked out for over a year at a time, or the low and ever dropping market prices. The recent addition of cyber terrorism, fire, COVID-19, and radical environmental agendas stand to be of detriment to the future of the American Rancher. As a resilient people in the greatest country in the world, ranchers just aren't willing to accept that negative outlook.
Holistic Management Practices Prove Favorable at the JX Cattle Co. ​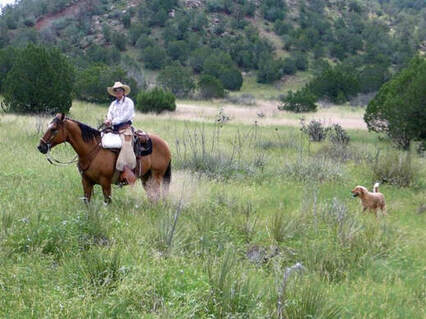 Located in Quay County, New Mexico the JX Cattle Company, LLC is owned and operated by Tom and Mimi Sidwell. The ranch was purchased in 2004. In that transaction the Sidwells found opportunity to implement their holistic management knowledge and the ranch received a new start. ​
From Our Members - Wilson Beef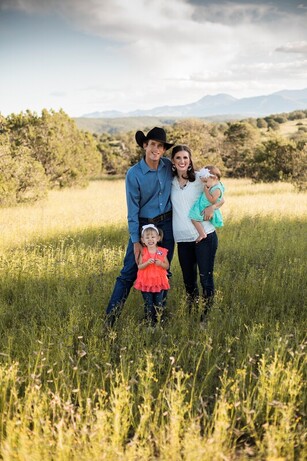 The Wilson Family has a long-standing connection to New Mexico since the time their ancestors homesteaded the Carrizozo area 7 generations ago.

Wilson Beef, operated by Kendal and Chelsea and their young daughters, is a small business that sells locally grown, pasture-raised, grain-finished beef. For years their family has connected New Mexico grown with ranching heritage and delivered it to your plate.
It all starts with a commitment to land and livestock.

The family guarantees: their cattle are treated humanely from birth to harvest, their retail cuts are certified USDA inspected for quality and safety, the land and water sources they carry on from generation to generation are kept healthy, and diverse ecosystems of all species are supported through deliberate and conscious management decisions.

Kendal and Chelsea reach their customers through shared personal experiences and by marketing to local communities. This unique business model allows them to provide top-shelf quality beef with the best flavor, so all you have to worry about is which recipe you would like to choose.
​
NMCGA Members Since 2020
---
Tompkins Recognized for Years of Service as Large Animal Veterinarian ​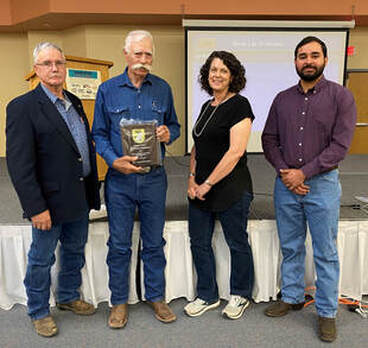 Jim Tompkins, DVM was recognized during the New Mexico Cattle Growers Association Quay County Regional Meeting last Saturday, May 8th. Dr. Tompkins has served as the large animal veterinarian to the Quay and surrounding counties for over 40 years.
​
Sawtooth Mountain - The reinstatement of livestock grazing on the Cibola Forest allotment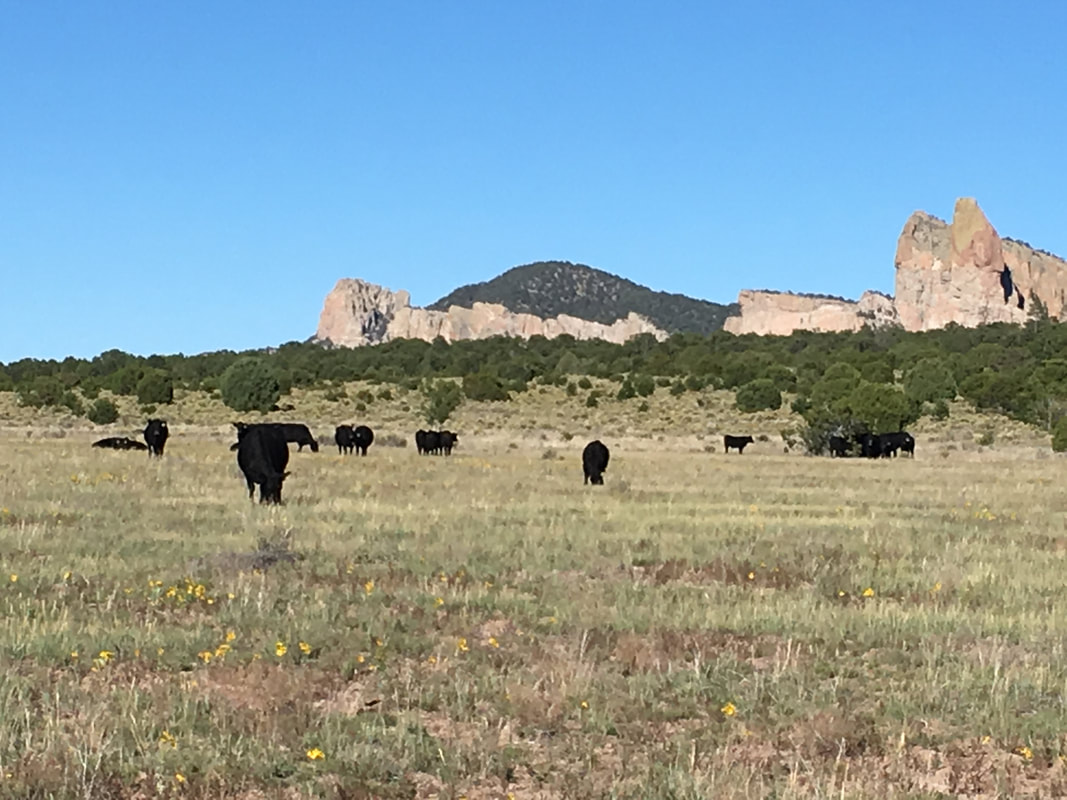 New Mexico Cattle Growers' Association (NMCGA) members Ron and Mahona Burnett recently shared their agriculture story with the Society of Range Management (SRM) and guests during the society's summer tour in Datil.
The Burnett's were awarded the permit to graze 22 sections of scenic Sawtooth Mountain. This particular allotment had been out of grazing rotation for several years. The couple was selected from a pool of five applicants, following critical review of detailed grazing and management plans for Sawtooth Mountain. With the addition of Sawtooth, Ron and Mahona run livestock on the Flying V and Sugarloaf allotments in the Datil area
Learning through tentation at JT Land and Cattle, LLC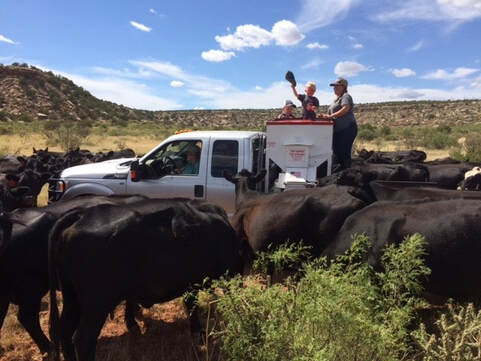 Since 1999, Jim and Carol Thorpe have owned and operated JT Land and Cattle, LLC near Newkirk, New Mexico. The Thorpe's daughter Willa, with husband Nathan Burk and three sons, are the next generation of the ranching family. Together they work to ensure the ranch's commercial cow/calf operation and the health of the land functions at its optimum. ​
From Our Members - John Diamond, Beaverhead Ranch Group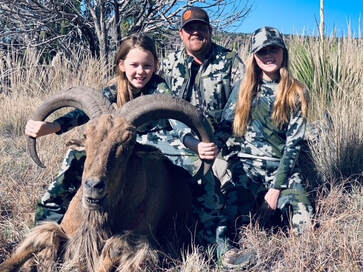 John Diamond was born and raised at Beaverhead, New Mexico which is located at the center of the Gila National Forest.

Originally a ranching operation, the Diamond Family diversified in the early 1980's with the addition of an outfitting business. The family recognized that with grazing management and implementation of watering systems the wildlife in the Gila began to thrive and coexist with livestock. Today, the Diamond's carry on an additional thriving business on the same ranch they have lived on since the early 1960's.

John owns and operates Beaverhead Ranch Group, a real-estate company which is comprised of a team of individuals who are experts in the field of hunting, cattle and recreational ranches. The group of agents include John, Travis Driscoll and G.T. Nunn. John and his team help buy and sell ranches in New Mexico to producers that are willing to implement the same stewardship principals they all grew up with; capitalizing on varying landscapes and the benefit of wildlife to the buyer and seller.

John is a 3rd generation producer raising his daughters, Reece and Cayden to appreciate the value the land gives through conservation practices, respect for the roles of sustenance and beauty wildlife give and a perseverance to make whatever they choose better with strong values and hard work.
​
NMCGA Member Since 1993
---
Managing the land for livestock and wildlife at the Spur Ranch Cattle Company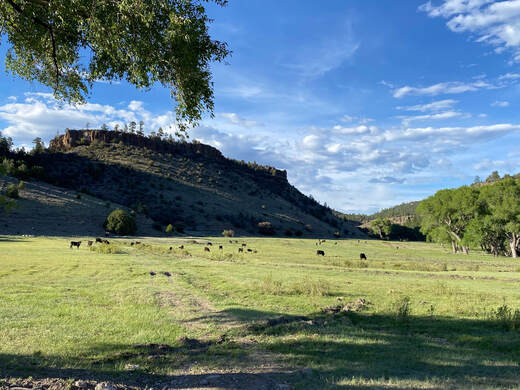 Every day across New Mexico, ranchers care for their land and livestock. They protect and develop water resources that provide wildlife habitat and maintain the wide open landscapes that our state is known for.

Ranchers Tom and Callie Paterson along with their daughters Lindsay and Caroline, run a cow-calf operation near Luna and Alma, in the southwestern part of the state. The family founded Spur Ranch Cattle Company in Catron County two decades ago, but the ranch name and area of operation date back to the 1870s. Spur Ranch Cattle Company is a member of the NMCGA.
​
From Our Members -Manzano Angus, the Garndner Family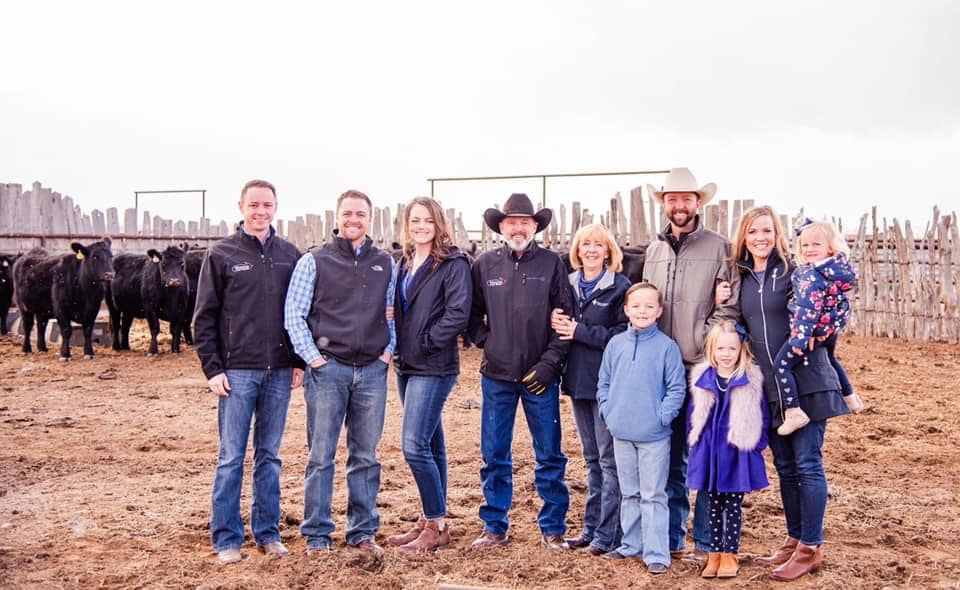 ​Manzano Angus is a family business, owned and operated by Bill and Lisa Gardner along with their sons Cole, Judd and Clayton. Based in Estancia, the family has adapted their stewardship practices to include genetic efficiency in their Angus herd.

The arid southwestern environment poses its largest challenge in the lack of precipitation, about 12-14" annually. Since the Gardner's run their herd on grass year-round, lack of precipitation could negatively affect their cattle. However, through years of sire selection and management decisions the family has worked toward perfecting a herd that not only tolerates but thrives in the dry climate of New Mexico.

So what does that mean for consumers?
The Gardner's efforts put into genetic stewardship results in healthy herds that utilize native grasses to survive and in turn provide a delicious and reliable source of New Mexico born-and- raised Manzano beef.
​
NMCGA Members Since 1986