NMCGA Allied Industry Committee Announces AIM Internship
New Mexico Cattle Growers' Association (NMCGA) Allied Industry Committee will be hosting college interns at the upcoming 2023 Joint Stockmen's Convention.  "The purpose for the internship is to encourage college student to network with our NMCGA membership and allied industry partners" said President Loren Patterson, Corona.  "We know that not all young people will return to the ranch, but there are a variety of off ranch jobs in the industry, and we want our next generation to have the opportunity to explore those options first hand." Interns will have the opportunity to shadow NMCGA Leadership and Allied Industry Partners.  Having an internship gives student an experience in the career field they want to pursue, as well as giving them the face to face time with peers and industry leaders.NMCGA is working with Allied Industry Partners on this program that will offer businesses the opportunity to bring new ideas and energy into the workplace, discover talent, and potentially build a pipeline for future full-time employees.  There are over 15 different agriculture related sectors represented in the trade show that hosts over 50 booths.  "We are excited to offer this program that is building the bridge between employers and employees," stated Patterson.Applications are now being accepted through October 6, 2023.  To apply please complete form below.  You may also call 505-247-0584 or email 

[email protected]

 to request an application be sent to you. Applications should be returned to: New Mexico Cattle Growers' Association, P.O. Box 850, Moriarty, NM 87035 or via email to 

[email protected]

.For further information, please contact the NMCGA office at (505) 247-0584.
Purina Mills and the New Mexico Cattle Growers' Association's (NMCGA's) Young Cattlemen's Leadership Committee (YCLC) is proud to announce they will be awarding two Purina Mills $1,000 scholarships and two YCLC $500 scholarship during the 2023 Joint Stockmen's Convention in December.

"Awarding these scholarships is a way that we can help young people who come from an agricultural background further their education," said Loren Patterson, NMCGA President, Corona.  "As they embark on their college years we want them to remember where their roots come from and pursue advanced degrees that will enhance their background in production agriculture as well as bring awareness in non-typical agricultural fields."

The two $1,000 Purina Mills scholarships will be awarded to a New Mexico student who is a member of the NMCGA, the New Mexico Junior Cattle Growers' Association, or the child of an NMCGA member.  Graduating high school seniors, and college freshmen, sophomores and juniors in good academic standing are eligible to apply for the award.  In addition, the Young Cattlemen's Leadership Committee and the Allied Industries Committee will also be presenting two $500 scholarships - one to a high school senior and one to a continuing college student.
​
"Obtaining a higher education can be very expensive for students and their families.  We are pleased to be able to offer these scholarships and encourage all eligible students to apply," Patterson said.  "We want to help NMCGA members and their families continue their education and hopefully return to the agriculture business."

The four scholarships will be presented to the top applicants during the Joint Stockmen's Convention slated for December 13-16, 2023 in Albuquerque at Hotel Albuquerque.  The application for the awards is located below or contact the NMCGA office at 505.247.0584 or via email at [email protected]  
Deadline for application is November 3, 2023
Heritage Buckle Contest
NMCGA board members, county fair board members, and award sponsors will collaborate in deciding the final winners from each county. Winners will receive a belt buckle and a one year junior membership to NMCGA. All county winners will then be automatically advanced to the Statewide Heritage Contest, where their essay submissions could earn them a $1,000 scholarship funded through the NMCGA Promotions and Marketing Committee. The state wide winner and their family will be awarded and recognized as special guests during the 2023 Joint Stockmen's Convention. 

​Youth, ages 9 to 15 years, in all 33 counties of New Mexico are eligible to apply, but previous winners will not be selected to receive honors. Entries require a 200 to 500 word essay response to the prompt: "How would you like to continue your family's agriculture heritage to better your community?" Essay submission deadline is May 12, 2023.
---
 Past State Winners
2022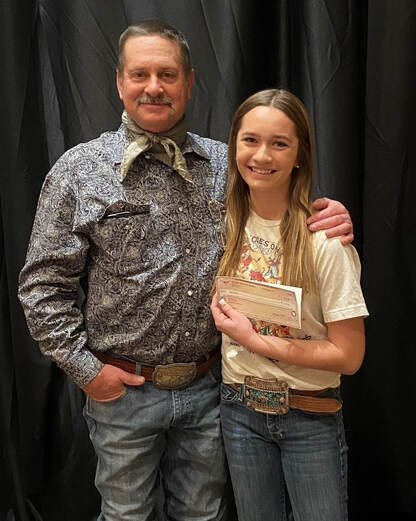 (L-R) David and Macklee Cain, 2022 Torrance County winner, sponsored by Nolberto & Carlene Hernandez.
2021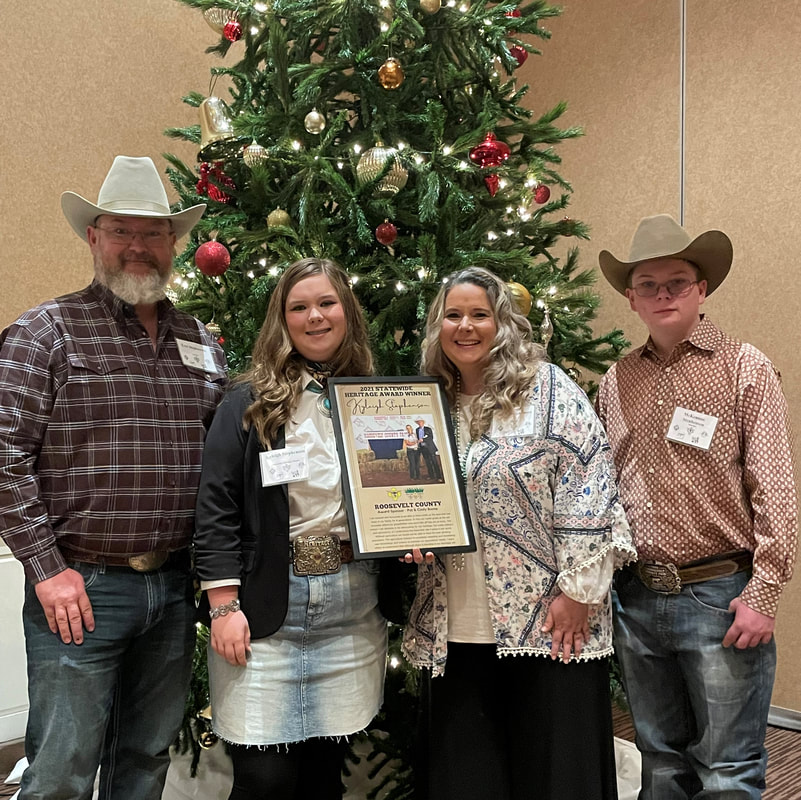 (L-R): Trey, Kyleigh, Sheila and McKennon Stephenson. Kyleigh was the 2021 Roosevelt County winner, sponsored by Pat & Cindy Boone.